Ripple price movement reflects moderate volatility over the past few hours. The currency is likely to bear the loss for the intraday traders. The coin started the day with a steep fall. However, later, the XRP coin managed to trade upwards and marked a slight recovery, but recently, it again fails to trade upwards and fell to $0.185.
XRP/USD Forecast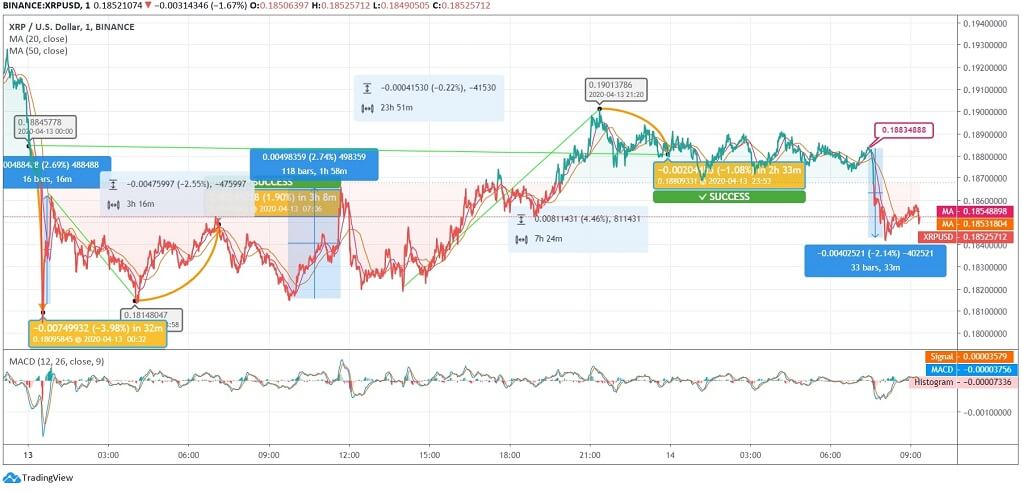 Over the last seven days, Ripple currency continued to trade with bearish influence with in-between spikes. Yesterday, the coin started dealing at $0.18845 during the first hour, but within 30 mins, the price dropped to $0.180 by 3.98%. Then, the XRP coin marked immediate recovery and took the price to $0.186.
Later, the currency couldn't hold itself at the same level and dropped to $0.181 by 2.55% over the next 3 hours. From this low, Ripple price escalated to $0.185 by 07:56 UTC, but again it dropped to $0.181. over the next 2 hours, the coin managed to trade around $0.183 despite the in-between spike.
Thereafter, the XRP coin started upside movement, and in the next 7 hours, the price jumped to $0.190 by 4.46% at 21:20 UTC. However, at the closing time, the coin faced a pullback pressure that brought the price to $0.188 by 1.80% and ended the day. The intraday movement in the coin brought a marginal regression at the Ripple price.
Today, the XRP coin started trading with slight stability, but later, it faced a steep fall to $0.185 by 2.14%. The MACD indicator is reflecting bearish indications as the signal line has overlapped the MACD line. The short-term moving averages, namely, 20 & 50-day, are at $0.1854 and $0.1853, respectively. The same is creating bullish crossover, and thus the possibility of improvement is not completely ruined. The current price of Ripple is quite near to the immediate support level at $0.182. The coin might breach the level in the approaching hour.