The crypto market is reflecting huge fluctuations over the last few days. The XRP coin has shown great potential all along the month and is currently holding its position tightly around $0.17. The speculations are that the coin might close today with a negative digit.
XRP/USD Price Chart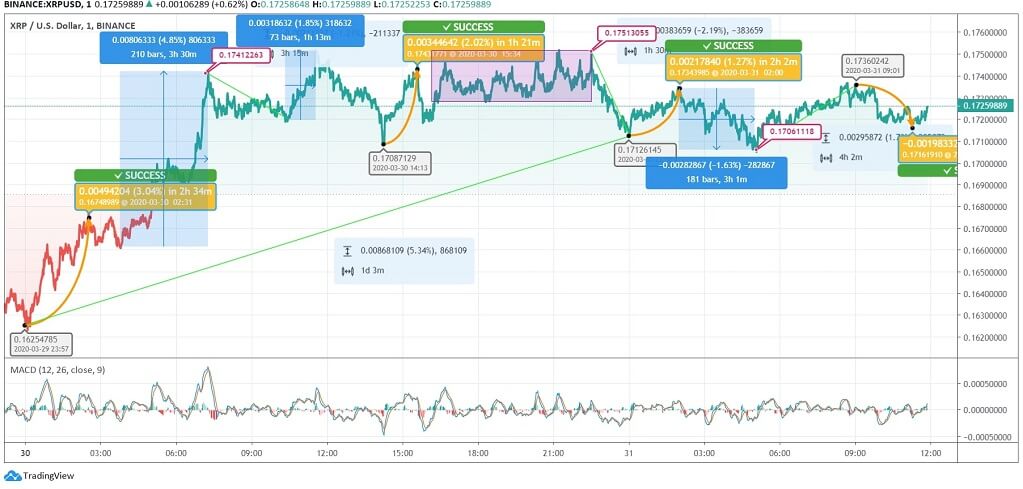 Ripple started dealing at $0.162 in yesterday's initial hour. Then, the price escalated to $0.167 within the next 2 hours, and the coin continued the upside movement for the next couple of hours and further touched $0.174 by 4.85% hike. From this high, the XRP price dropped to $0.172 at 10:12 UTC but tried recovering again and touched $0.175. At 14:13 UTC, the coin was again fell, and the price touched $0.170.
However, in the next 1 hour and 21 minutes, Ripple price escalated to $0.174. With a slight slip to $0.172, the coin improved to $0.174 and hanged at the same level till it reaches $0.175. The closing hours brought the XRP price to $0.171 and ended the day. The day-long movement brought a 5.34% progression.
Today, Ripple began the day with an upsurge and the price moved from $0.171 to $0.173 by a moderate hike. The coin marked a decline and the price touched $0.170 by 1.63% but later improved to $0.173 by 1.70% hike. At the time of writing this analysis, the currency was trading at $0.172.
The current price of the XRP coin is likely to breach the immediate resistance level at $0.176 in the impending hours. However, if the market pressure rises, then the immediate support is formed at $0.165.