The crypto market is exhibiting mixed movement of the coins. The day began with a plunge, but later it improved, and now again, there is a pullback pressure observed over the XRP coin. The movement in the price might bring tremendous change in momentum by the end of the day. If Ripple manages to violate the resistance level at $204, then the closing could be anticipated to be fruitful.
XRP/USD Price Chart: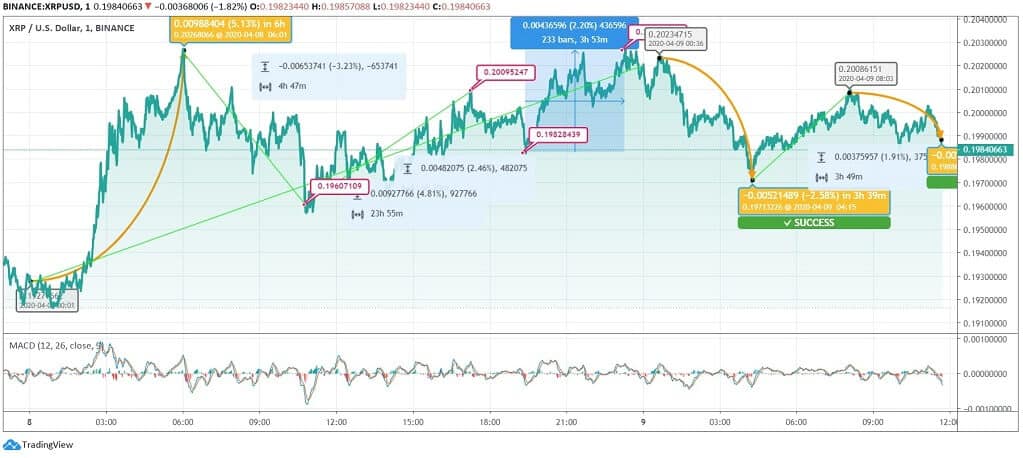 Since April 07, Ripple price was trading above $0.192, and yesterday, it managed to trade at a similar level. In the first hour, it was trading around $0.192 but later started improvement. With a spike at $0.200, the coin touched $0.202 at 06:01 UTC, but it couldn't hold itself at the same level and thus drop to $0.196 by 3.23% fall in the next 4 hours and 47 mins. Further, the XRP price improved in the following hours and touched $0.200 at 17:10 UTC. Then, the currency kept this volatility intact and improved to $0.202 by 2.20% hike. Ripple coin ended the day at the same level and brought 2.48% progression in a day.
Today, the currency started with a massive plunge. The price counters moved from $0.202 to $0.197 by 2.58% fall at 04:15 UTC. Then, it marked improvement, and the price touched $0.200 in the next 3 hours and 49 mins, but again the pullback pressure brought the XRP price to $0.198. The resistance level at $0.204 is likely to be breached at any moment.