The crypto market ended the quarter with a positive closing. The last month of the quarter brought massive regression. The same was supported by the global crisis that has broken the back of financial institutions worldwide. The traders have high hopes from the crypto market as they likely to bring the required stability.
Ripple is counted among the most trusted cryptocurrency in the market. The improvement in the coin is expected in the upcoming period, and traders are recommended not to get worried about the recent plunges that are likely to be short-lived. The intraday trading in Ripple might register loss as the market pressure is felt lately that might affect the XRP coin's momentum.
XRP/USD Price Chart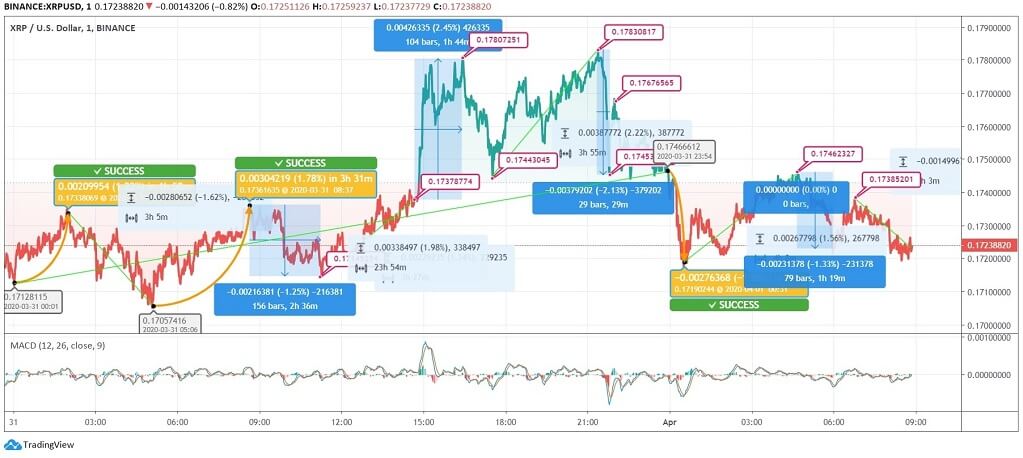 Yesterday, Ripple price was spotted dealing at 0.1712, and in the next one hour, the price escalated to $0.173 by 1.23% but couldn't hold itself and dropped to $0.170 at 05:06 UTC. XRP coin price again improved to $0.176 by 1.78% at 08:37 UTC but then marked a decline of 1.25%, and the price reached $0.171. From this low, the currency escalated to $0.173 by 1.34%. Then, it continued the upside movement, and in the next hour, Ripple price touched $0.178 by 2.45%. However, it faced a steep fall and dribbled to $0.174 at 17:26 UTC.
Further, the coin managed to recover again, and the price escalated to $0.178 by 2.22% hike, but from this high, it faced rejection and plunged to $0.1746. Before closing, the XRP price spiked to $0.1745 but closed the day at $0.1746. The day-long movement brought a 1.98% progression.
Today, Ripple began with a plunge of 1.58%. The price counters moved from $0.174 to $0.171. The coin improved to $0.1746 but again plunged to $0.172 and continued to trade in a similar range with moderate volatility. As per the current trend, it looks like that the XRP coin would breach the immediate support level at $0.171 in the upcoming hours. If the momentum improved, then it might touch the immediate resistance level at $0.177.