The cryptocurrency market always kept the traders on the edge of their seats with its unpredictable movement. However, the top trending currencies maintained their pace, and thus, the crypto market managed to recover out safely.
Ripple is among the few coins that have shown substantial improvement from the beginning of the second quarter and are likely to maintain the same for a couple of days. XRP coin would be seen driving the price to a new level by breaking the previous records by the end of the second quarter.
XRP/USD Price Chart: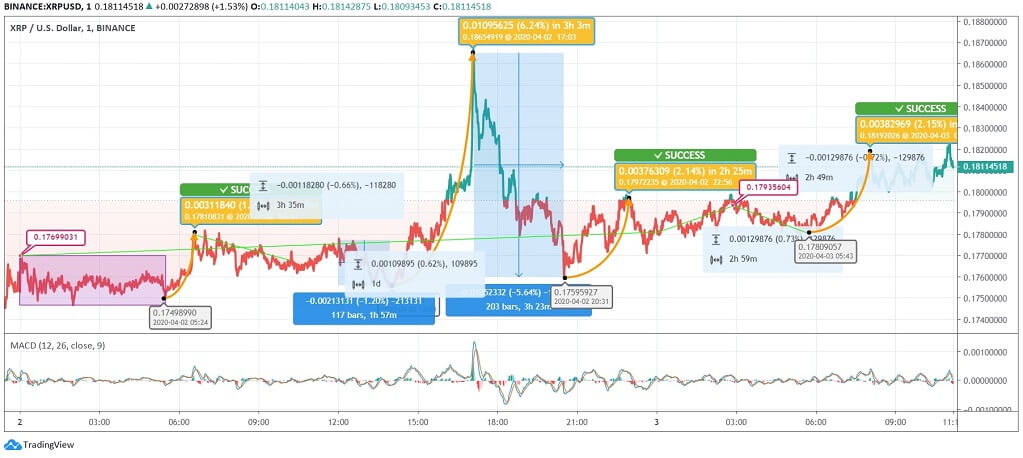 Yesterday, Ripple coin started dealing at $0.176 and remained around the same level till 05:24 UTC. Further, the price improved and reached $0.178, but couldn't hold for long and fell to $0.176. With a slight spike at $0.178, XRP price again dropped to $0.175. Later, the currency exhibited a tremendous jump at 12:03 UTC, which took the price to $0.186. However, in the next 3 hours, Ripple price returned to $0.175, but immediately improved again and touched $0.179. The day ended at $0.178, with a marginal profit of 0.62%.
Today, XRP/USD started dealing at $0.178, and in the first two hours, the coin jumped to $0.179 by a marginal improvement. Then, the price plunged to $0.178 by 05:43 UTC. Further, the coin again improved and touched $0.1819 by 2.15% hike. The Ripple price is hovering at the same level since then, and now it is currently at $0.1811. The current price of XRP coin is near the immediate resistance level, and the same might be seen breaching in the upcoming hours.