Meta Data: In spite of the positive growth, the short term trend in Ontology is still bearish. As of now, the coin has shown some recovery from the red zone.
Ontology recently invested in Vid Inc., a social video platform which will be launched publicly later this year. As a strategic partner of the blockchain, Vid will use Ontology's technology to power transactions on the app. Further, ONT will assist the social platform in promotional and marketing campaigns.
Current Statistics:
On September 16, at UTC 05:27, Ontology (ONT) vs USD is trading around $0.773852.
Against Bitcoin, the crypto was valued around 0.00007502 BTC per chip.
Additionally, the market capitalisation of the cryptocurrency is around 414,111,813 USD.
At the same time, the 24-hour trading volume in the altcoin is 65,060,686 USD.
With an ROI of -70.39%, the number of Ontology chips circulating in the market, at the above-mentioned time, was 533,351,967 ONT.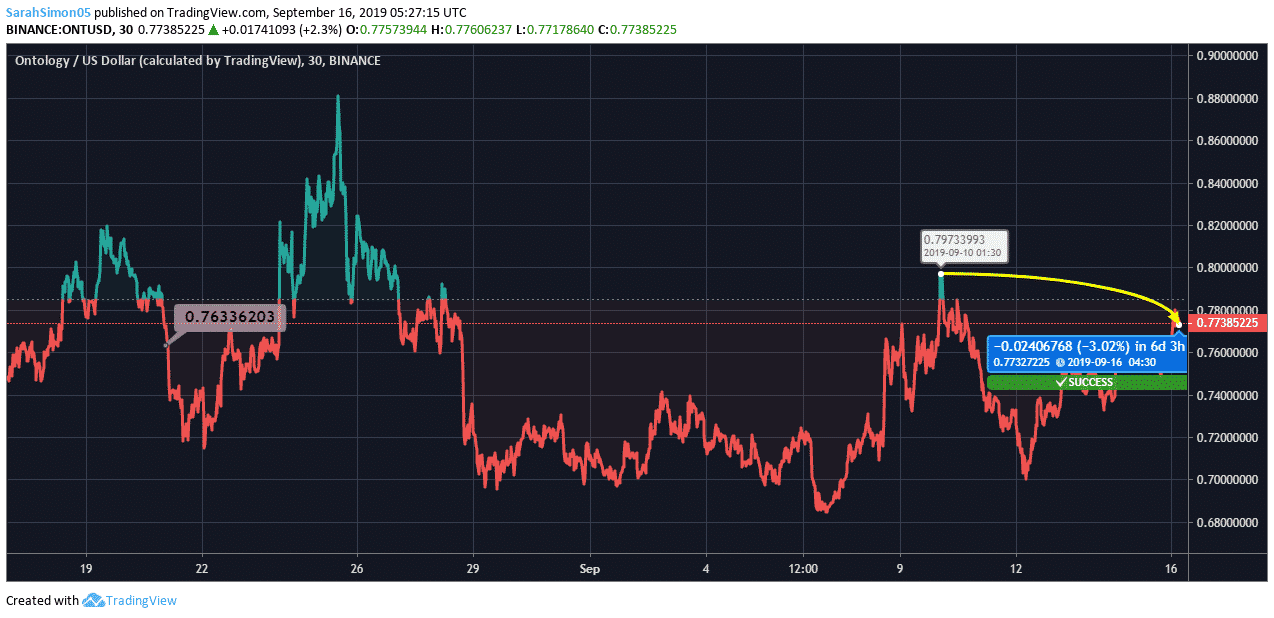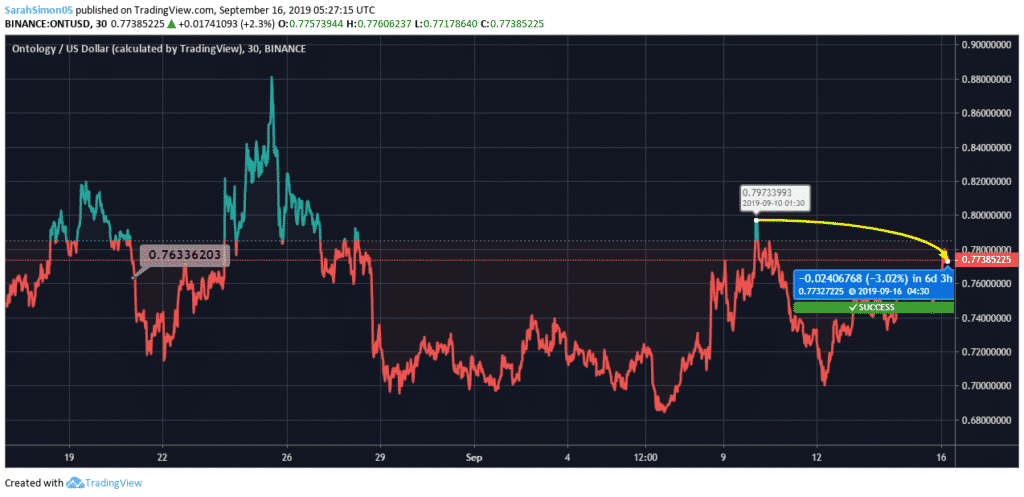 On August 21, Ontology was trading around 0.763362 USD. Since then, in a period of 25-days, the coin has shown a decline of 1.37%. However, in the weekly trading duration, it marked a decline of 3.02%, from the level of 0.797339 USD on September 10, 2019. In stark contrast, yesterday's trading numbers were quite bullish. The other day it opened at 0.758525 USD and with a marginal hike of 0.14%, wrapped the day at 0.759614 USD.
Ontology has shown a huge amount of hike in the last couple of days. If the current movement continues, the ONT will soon be in the green zone. The immediate resistance in ONT is at 0.7699 USD and the support level is at 0.7504 USD.
The current level of ONT presents an optimum opportunity for buying. As per the anticipations, the coin will surge in the near future.